Now dubbed 4Projects by Viewpoint, the collaboration solution is spearheading wider adoption of SaaS across the Viewpoint portfolio.
I attended most of the second day of the 4Projects user conference in Newcastle yesterday (Thursday), hoping to hear more about the parent company Viewpoint Construction Software's plans for its locally-based UK Software-as-a-Service construction collaboration vendor subsidiary. I wasn't disappointed; the two breakout sessions discussed the roadmap for the 4Projects BIM Hub, and, some 15 months after Viewpoint acquired 4Projects, plans for the overall convergence of the group's collaboration and ERP product suite. I also noted some alterations to the company branding.
'4Projects by Viewpoint'
As a marketeer, I'd noticed some subtle changes to the 4Projects branding. First, my company contacts recently switched to Viewpoint.com email addresses. And, second, the event's literature sported a new logo – changed from "4Projects – a Viewpoint company" to "4Projects by Viewpoint" and the event was titled, somewhat inelegantly, the "4Projects by Viewpoint Customer and Partner Forum". It appears that the business (like UK competitor BIW which rebranded 15 months after it was acquired by Conject in December 2010) is gradually moving towards being rebadged as Viewpoint, with 4Projects becoming just a European product name – at least for the time being (the Australian product, now apparently sold by a direct sales team rather than through a partner, having adopted the US branding of Viewpoint for collaboration).
4BIM
John Adams, who heads up 4Projects' 4BIM efforts in Newcastle, led a session on the BIM product line and roadmap. He looked back to the publication of PAS1192-2 early last year, and then explained how its recommendations for a Common Data Environment are reflected in 4Projects project model information delivery processes covering Employer's Information Requirements, BIM Execution Plans, single design models and master design models, etc ("4Projects also manages the grey boxes of workflows like approvals").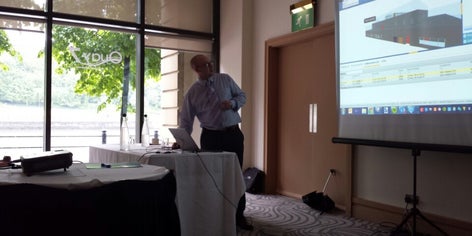 John demonstrated (as far as the wifi of the Copthorne Hotel allowed) the 4BIM viewer showing how users could navigate around a visualisation of the model, drill into work breakdown structures and even edit COBie data. The platform has clearly matured since I saw it in March 2013, with new functionality and workflow support being added to support BIM-based collaboration.
There was a lively discussion of the partnership between 4Projects and Solibri (January 2014 post) and of how model validation fitted into BIM processes (still a lot of work to do on creating rule sets it seems, and I detected some scepticism about the industry's overall BIM readiness, summed up by one experienced information manager: "I feel like I bought a rocket to go to the moon, but I got a big box of parts and no instructions"). John then talked about the BIM Hub roadmap, describing, for example, BIM dashboards that would help users see at a glance how complete their models were for different data drop purposes. He also mentioned "social walls" that could be used to provide better quality discussions about project design, a continued integration path with other Viewpoint point solutions, and more mobile BIM.
Viewpoint see collaboration and ERP converging
I didn't appreciate it immediately, but John's BIM overview was a good lead-in to the afternoon session, led by Jeremy Larson, on the Viewpoint product roadmap (at lunch, Viewpoint's VP Product Management Rob Humphreys told me that around 22% of Viewpoint ERP customers were already using the product "in the cloud"). Jeremy started by looking back briefly at the history of the Viewpoint system architecture, noting that it tended to go through major changes about once every seven years. The last big iteration of Viewpoint's core ERP system was in 2007 when it released its V6 Windows product and the next big change would see this and other products in the company's portfolio undergo a gradual "unification" of products (Viewpoint CEO Jay Haladay stressed this was "evolutionary not revolutionary"). The aims are:
provide a high quality, contemporary user experience
extend browser-based access across all applications and data (web-based ERP by 2017, accounting in 2018 – mostly via Viewpoint-managed hosting, but recognising that a perhaps slowly reducing minority of companies will want to keep some data in their own private clouds)
support workflows reflecting the realities of construction processes, and
integrate all parts of the Viewpoint portfolio, so that
customers can develop long-term relationship with Viewpoint, rather than multiple vendors of disparate point solutions.
The outlined programme stretched through to 2018, but is already under way. Viewpoint is aiming to leverage its core collaboration and ERP strengths, with the first stage – "next generation project management document control" – encompassing document control, cost control, BIM collaboration and COBie delivery, ready in March 2015. Further convergence of the two strengths would see enhanced tendering, subcontractor/vendor qualification and project opportunity tools released in September 2015, followed by cost control, contract change management, subcontractor management and change order modules in 2016.
Viewpoint's future users are also expected to be increasingly mobile (I learned that, in addition to 4Projects' 4Mobile – post, Viewpoint also has field data capture applications supporting its US ERP solutions, including one acquired as part of the February 2014 Maxwell Systems deal), and the business will extend access via Android and iOS devices first, then Windows. Echoing the mention of 'social' earlier in the day, Jeremy also stressed that "social is becoming part of construction" and he showed some user interface concepts clearly strongly influenced by current social media platforms.
These prompted some debate among the 4Projects users in the session, mostly information managers responsible for administration of the 4Projects collaboration platform across large organisations and even larger supply chain networks. Roll-out of previous upgrades of the core platform hadn't been without occasional problems, it seemed, and the somewhat radical new 'look and feel' was seen as a major step change, likely to add to the disruptive effects of increasingly wider adoption of BIM for UK project delivery in 2016. Jeremy, Jay and the other 4Projects staff listened carefully to the points and promised to consult and inform as widely as possible and to roll-out new developments with as much education and support as possible, deploying new "learning services" people to assist with the process.
Four views
Having met various Viewpoint and 4Projects people over the last year or so, this event confirmed the clear direction of travel – and it's 'into the cloud'. Software-as-a-Service collaboration is clearly not just a useful addition to the parent company's portfolio; it has given Viewpoint a strong base to combine its core experience and its growing technical know-how in web services, and to move more of its ERP customers towards a SaaS subscription model with all the benefits that brings to them (lower IT overheads, transfer of risk, more predictable IT expenditure, etc) and to Viewpoint (economies of scale and skills, more predictable revenues, etc).
The repeated references to simpler user experiences, being mobile-friendly and 'social' also show that the company knows collaboration platforms (and other software) run the risk of appearing out-dated and user-unfriendly in a world in which even corporate IT solutions have to be immediately available and intuitive to use. And this is particularly vital for SaaS solutions, which need to limit customer and end-user 'churn' and trials of alternative online products if they are to be commercially successful. I have noted before (here, for instance) how recent startups have adopted mobile-first, real-time approaches to AEC collaboration, looking to capture the current zeitgeist and supersede the email-reliant, asynchronous nature of established collaboration platforms.
Having attended several SaaS collaboration user conferences, including ones for Conject, Unit4 BC and Asite, this was slightly different as it was a post-acquisition event. As such it allowed key 4Projects users who attended to get a clearer picture of how the collaboration offering fits into the future Viewpoint picture, and to be reassured it wasn't about to lost or bundled up into something bigger. Indeed, the hosts stressed that customers could stick with the core collaboration modules if that's all they needed. The longer-term intention, though, is clearly to provide a richer range of complementary functionality that can, if necessary, be progressively switched on as customers' requirements evolve.
In the final session of the day, CEO Jay Haladay asked delegates if they would attend a similar event in London next year, and there was a good show of hands. With earlier announcement of the date, allowing more time for attendees to plan their diaries, an increased attendance would, I think, be achieved (marketing manager Adam Page told me they'd had around 60 user registrations, though not everyone could attend the whole two days). And with communication clearly important to users when it comes to roll-out of new systems, such conferences will be even more important as Viewpoint delivers its new look applications into a market facing multiple disruptions.
[Disclosure: 4Projects paid my travel and overnight accommodation costs to attend; prior commitments prevented me joining the first day.]