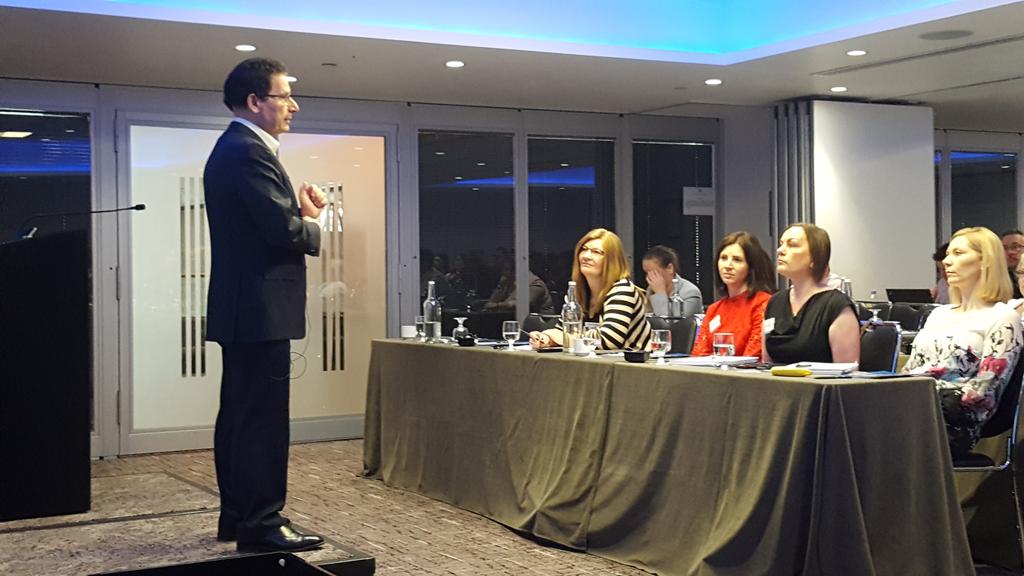 Viewpoint Construction Software's 2016 UK customer summit reconvened at London's Grange Tower Bridge Hotel again this week, and, with more delegates (c. 150) from more companies (55) than last year, now looks to be outgrowing the venue. For many of those attending the two-day event, it was a first opportunity to hear from Manolis Kotzabasakis – appointed CEO of Viewpoint in August 2015 (post) – and he reiterated many of the subjects I discussed with him earlier this month: industry transformation, overdue consolidation, Viewpoint's continued growth, etc.
UK developments
EMEA commercial director Steve Spark gave an update on the UK business's progress, which he said includes the SaaS collaboration platform Viewpoint For Projects (VFP) being used on major infrastructure projects including the Hinkley Point nuclear power station project, HS2 and Swansea Bay tidal lagoon. Sales had grown 22% sales, revenues were up (due to be reported in September) and use of the former 4Projects system and of the mobile platform Field View (formerly Priority1) had both grown massively –  6.5 million documents were published to VFP in a year, a million more than the previous year. Steve also said Viewpoint was winning growing volumes of VFP deals in Australia and the US.
Development resource had also expanded massively since 4Projects was acquired by Viewpoint in February 2013 – from 13 to 35 developers – with the total UK operation now numbering 105 ("and growing"); it was also announced that hard-working former Priority1 CEO Richard Scott is also taking a 12-month sabbatical from the business.
Recent product highlights have included an HTML5 viewer (superceding the old Brava viewer), launch of the VFP BIM Manager, and access to VFP from within Field View. Imminent is launch of an end-user portal, ClearView, and availability of Viewpoint apps via the main Apple, Android and Windows app stores (and I saw an Alpha preview of an iOS version of the previously Android-only Field View tool).
BIM Manager and Viewpoint For Projects
(Update: 12 noon BST) – John Adams, product manager for BIM Manager (also architect and self-confessed "COBie enthusiast"), led a session on integration between BIM and the VFP collaboration platform. Its 4BIM R&D project (which started in 2012) gave it a lead over most of its competitors when it came to developing BIM in the browser and to integrating COBie views into views of the model. He explained COBie data can now be drawn from more sources than just the displayed model.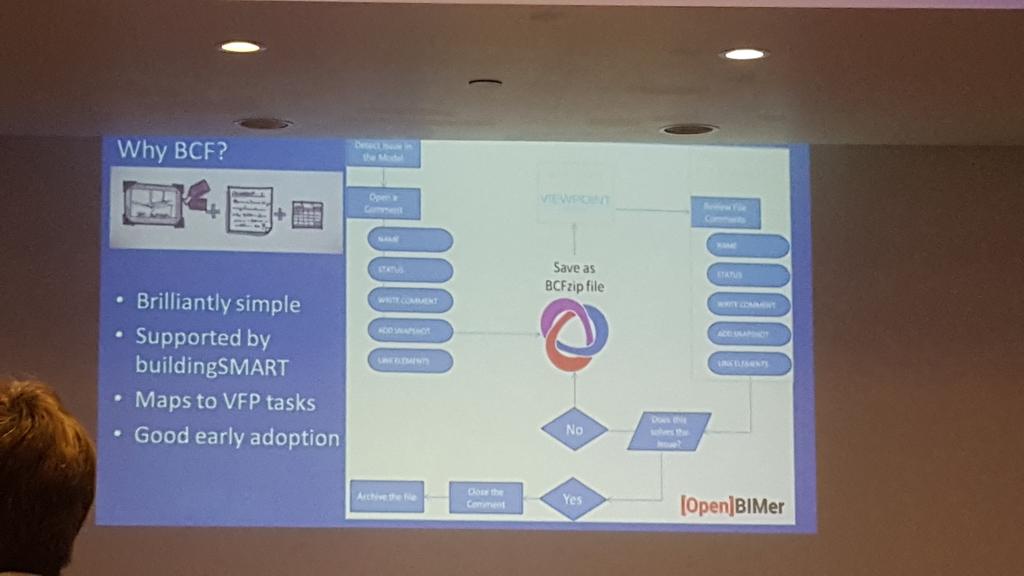 Viewpoint's BIM home page brings models, data and requirements together; it has been designed with the needs of information managers in mind, and with Level 2 BIM processes central. BIM model-related tasks can now be managed from the BIM viewer (including use of BCF, BIM Collaboration Format), which captures a view and associated comments and time/date stamps it), and – recognising that teams are now working on combined models – tasks against federations have now also been built in to the tool. BCF, supported by BuildingSMART, has been adopted as Viewpoint's key component for managing and resolving 'BIM issues' via its VFP common data environment, CDE.
John also covered file naming conventions, automated model format  and working units checking; he said Viewpoint has worked extensively with BS1192 'standard guru' Mervyn Richards to ensure its system meets PAS1192:2 and 3 requirements. And much had been learned from deploying the technology and processes on projects for customers including the UK Ministry of Justice and contractor Willmott Dixon (he demonstrated the viewer's toolset using a model created for a project at Bournemouth University).
(Update: 1500 BST) – I also talked over lunch to John about the ongoing Innovate UK-funded project looking at 'satellite' or 'Tier2Tier' CDEs (post), due to finish this autumn. He told me the research project has identified different speeds of adoption of COBie within project supply chains, and also some shortcomings in processes currently defined in BIM Execution Plans (BEPs) regarding publication of data to satellite CDEs. Learning from the Tier2Tierproject will be shared by the project's academic partners following its conclusion.
[Disclosure: I delivered a keynote presentation (fee paid) at the Viewpoint event.]