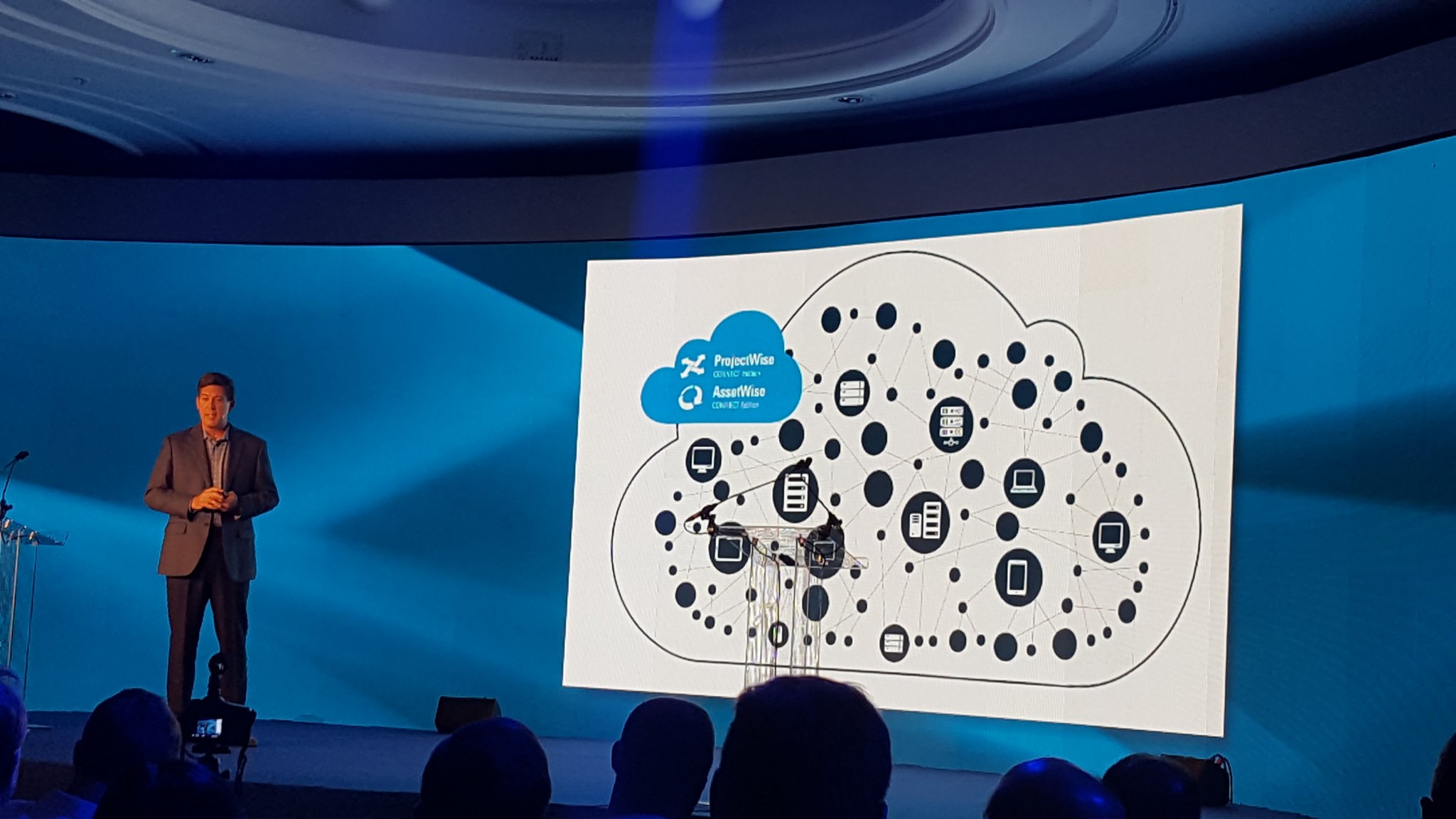 At Bentley Systems' 2016 Year in Infrastructure conference in London this week, the company has announced the availability of its whole-life data solution, AssetWise CONNECT Edition, complementing the ProjectWise CONNECT Edition launched a year ago (post). Connected data is a recurring theme.
A connected data environment
Greg Bentley said the CONNECT Editions of AssetWise and ProjectWise provide and share a "connected data environment" (as distinct from a 'common data environment'), helping users capture the BIM potential of digital engineering models created during CAPEX, for continuous benefits throughout the OPEX lifecycle. Microsoft's Azure cloud was repeatedly referenced as part of the enabling technology.
AssetWise CONNECT Edition's asset lifecycle information management services support capabilities previously offered separately through several Bentley products including eB, Exor and Amulet, and the company says these are already utilised by 25 of the 50 largest Bentley Infrastructure 500 Top Owners (in a building and construction press briefing yesterday, Bentley's Harry Vitelli talked about a growing number of owner/operators now hosting their own data, or getting Bentley to host it for them).
The connected data environment is made possible by technologies shared between design, construction, and operations work: intrinsic 3D geocoordination; engineering precision; self-describing data; information mobility; and work process automation. Accordingly, Bentley says information maintained through AssetWise CONNECT Edition inherently understands and can act upon its:
geospatial context (navigating to asset data via conventional maps, for example)
reality context (at the conference today, Alan Kiraly and colleagues showed how asset data could be navigated to intuitively using imagery from reality capture tools – a big theme at last year's event)
network and linear context
digital engineering model context
change integrity context
reliability context
enterprise IT context, and
lifecycle context.
AssetWise CONNECT Edition helps owner-operators manage their infrastructure assets for engineering integrity, compliance, and performance modeling, through new subscription offerings, sized based on the scope of assets covered:
Asset Lifecycle Information Management: providing structured control of asset information and managed change throughout the asset lifecycle
Asset Reliability: reducing risk associated with asset failure through proactive inspection and maintenance programs and smarter decisions for improved asset reliability, integrity, and performance
Operational Analytics: automating better operational decisions with data mining, aggregation, and calculation tools for right-time predictions and actions; and
Enterprise Interoperability: facilitating the interoperation of multiple data sources for visibility of mission-critical asset information.
Commercial aspects of ProjectWise CONNECT Edition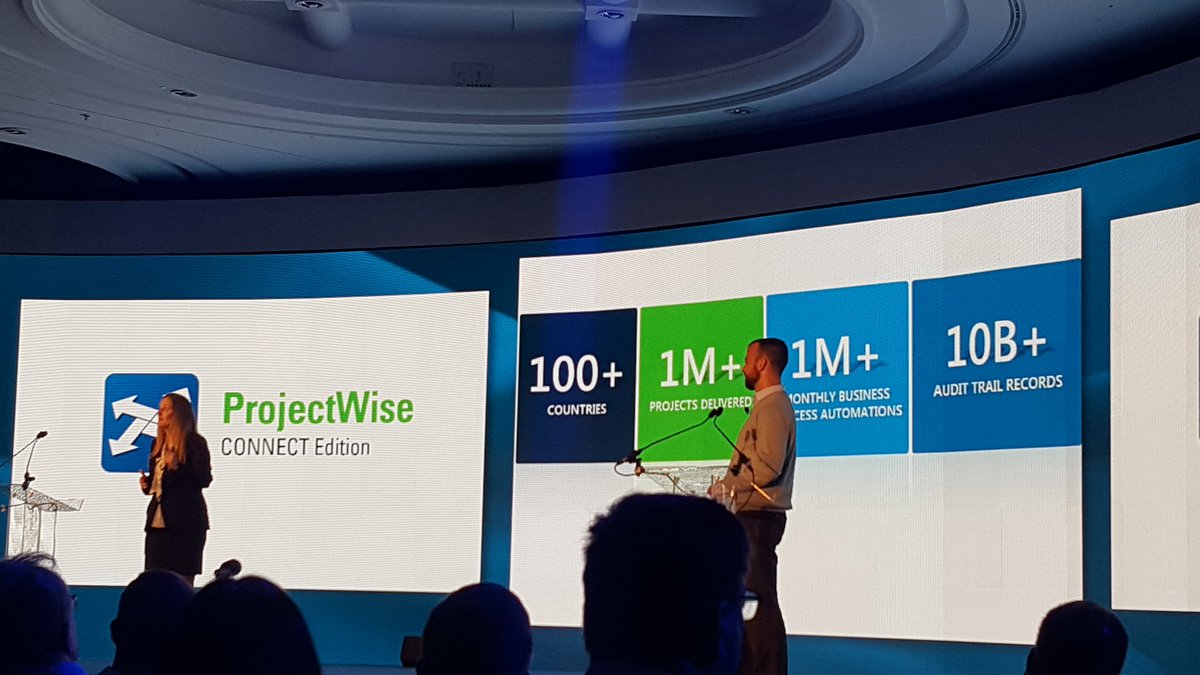 Bentley says ProjectWise is already used by 44 of the 50 largest, and by 355 of the 641 ENR Top Design Firms globally. Since its launch in the late 1990s, it has been used in over 100 countries, to deliver over one million projects, to automate over a million business processes per month, and accumulate over ten billion audit trail records. For a long time, it was primarily a customer-hosted document collaboration solution, but in recent years, facing competition from pure SaaS vendors such as Aconex, Viewpoint, etc, as well as rival software house platforms such as Autodesk's Buzzsaw and more recently BIM 360 Docs – it has gradually extended to encompass BIM and more SaaS-type implementations: ProjectWise Essentials was launched in November 2014, for example.
ProjectWise CONNECT Edition, introduced in 2015, uses Azure cloud services to extend its BIM-enabling capabilities beyond organisations and users of on-premise servers. To date in 2016, Azure-provisioned ProjectWise and AssetWise services have achieved availability service levels above 99.8 percent, according to Bentley.
CONNECT Edition servers are, Bentley says, "unlimited," with no licensing charges for those Azure-provisioned, deployed on-premises, or in any hybrid combination.
ProjectWise services are instead charged for the value generated through their "consumption," based on actual usage determined after every calendar quarter. Each unique user is charged for a Passport which "universally" entitles access to, and usage of, connected environment data, including through "apps" for issue resolution, submittal and/or transmittal of deliverables, dashboard visibility, and more. Users may also be charged in a quarter for Visas to the extent of their actual usage of additional functionality. Accordingly, ProjectWise user organizations no longer bear fixed costs and charges are aligned with realized BIM outcomes.
At the conference, Bentley introduced new ProjectWise CONNECT Edition cloud services for organisations seeking to institutionalise BIM advancements, purposefully propagating best practices in "going digital" through shared resources:
Automation Center for standardizing repeatable workflows and deliverables
Components Center to share catalogs and to accumulate intelligence across design, fabrication, asset registry, and reliability experience; and
Optioneering Center for leveraging parallel computing resources, including for cross-discipline design and analytical scenarios and insights
Microsoft integration
A recurring theme to today's technology presentations has been not only growing use of Microsoft Azure to connect users, but also increased integration with various Microsoft tools. At the office level, these include Office365, OneDrive and SharePoint (some readers may recall Bentley had a Sharepoint integration, StartPoint, ten years ago), but the Bentley-Microsoft relationship also extends to more specialist platforms such as Microsoft's Power BI anayltics platform and to the HoloLens VR platform (launched only 18 months ago but already a staple part of construction events including last week's Digital Construction Week as well as Bentley's Year in Infrastructure).
Update (2 November 2016) – The Microsoft push continued today, with a presentation about the growing network of Azure data centres (now with centres in the UK and Germany, for example) and repeated references to connections with Office365 and other Microsoft products. Online today, I also noticed a news item about a forthcoming new Office365 collaborative chat-based application: Microsoft Teams:
[Disclosure: I was a juror at the Bentley Year in Infrastructure Be Inspired Awards; Bentley paid my hotel and subsistence expenses to attend the conference.]