The British Safety Council's Canairy app uses data from the London Air Quality Network, but its use is restricted to affiliated construction companies, and to London. Devices such as Atmotube could extend the reach while providing more localised and accurate data, both outdoors and indoors.
Last week (20 May 2019), the British Safety Council launched a report 'Impact of air pollution on the health of outdoor workers' which highlighted ambient air pollution as an occupational health hazard in Britain. The charity is campaigning to limit the dangers of air pollution to the health of outdoor workers – many of whom work in the construction sector.
Air pollution, linked with up to 36,000 early deaths a year in the UK, is considered the biggest environmental risk to public health. Research from King's College London suggests that more than 9,400 people die prematurely due to poor air quality in London alone. Ambient air pollution is linked to cancer, lung and heart disease, type-2 diabetes, infertility and early dementia.
Several pilot schemes are beginning to monitor and measure the levels of air pollution experienced by people working and living in London. Their findings will be instrumental in developing recommendations for reducing people's exposure to air pollution in the capital.
However, at the same time, the government and regulatory bodies such as the Health and Safety Executive (HSE), continue to demonstrate a lack of interest in relation to regulation and guidance on air pollution.
Caged Canairy
In March 2019, the British Safety Council launched its Time to Breathe campaign, which is focused on the protection of outdoor workers from air pollution. The cornerstone of the campaign is Canairy, a mobile app that gives outdoor workers and their employers insights into pollution and how to reduce staff exposure to it. It has been created in co-operation with King's College London. Canairy draws on the London Air Quality Network (LAQN) pollution map at King's and the worker's GPS to calculate an individual's exposure to pollution on an hourly basis.
However, judging from user comments on the Google Play Store, some users feel the Canairy app should be freely available:
"Restricted access. Why?"
"Waste of time. You need an access code. You can only use if you are a construction worker."
"… this shouldn't just be locked down to construction workers – breathing fresh air is something everyone should be able to do."
Other air quality apps have been created by King's College – Londonair, City Air – but are focused just on London, and get mixed reviews from users.
Improvements needed
The British Safety Council's latest report presents evidence about the causes and consequences of air pollution in Britain, and reviews international examples of initiatives set up to measure air pollution in different locations and their recommendations for risk reduction. It calls for:
The UK to adopt the World Health Organisation's exposure limits for the main pollutants;
Government action to ensure ambient air pollution is treated as an occupational health issue and adopt a Workplace Exposure Limit for Diesel Engine Exhaust Emissions (DEEE);
Improvements to pollution monitoring across the UK, so that all regions can have the same accuracy in emissions data as London;
Recognition that protection from the dangers of air pollution should be enshrined in law as a human right.
Lawrence Waterman, Chairman of the British Safety Council, said:
"The impact of air pollution on people working in large cities is starting to be recognised as a major public health risk. However, we are yet to see any true commitment to addressing this issue by the government and the regulators.
"The Time to Breathe campaign, together with our recent report, is a call to action for policymakers, regulators and industry leaders. The social and economic implications of ambient air pollution are clear. It must be recognised as an occupational health hazard, much like some toxic substances such as asbestos. Breathing clean air is not a privilege but a basic human right for the thousands of people who are undertaking vital work outdoors."
There is also a need to monitor air quality inside buildings. The British Lung Foundation says we spend about 90% of our time indoors – at home, at work, at school, or when we go to shops or restaurants. Poor indoor air quality has been linked to lung diseases like asthma, COPD and lung cancer.
New generation Atmotube
Of course, air quality can vary substantially even within very localised areas, so as well as accessing data hourly from official fixed sources, it can be useful to monitor air quality on individual sites or even in the immediate surroundings of an individual worker – recognising that some workers will also be highly mobile, sometimes moving between individual sites, or working on linear infrastructure projects spread over long distances.
In September 2016, I wrote about a portable wireless air quality monitoring device, Atmotube, that shares environmental data to a user's mobile phone. I contributed to a Kickstarter campaign to fund the initial development of these devices by a US-based company, and I have remained a supporter, taking delivery in recent months of both the updated Atmotube Plus, and the higher-end Atmotube Pro.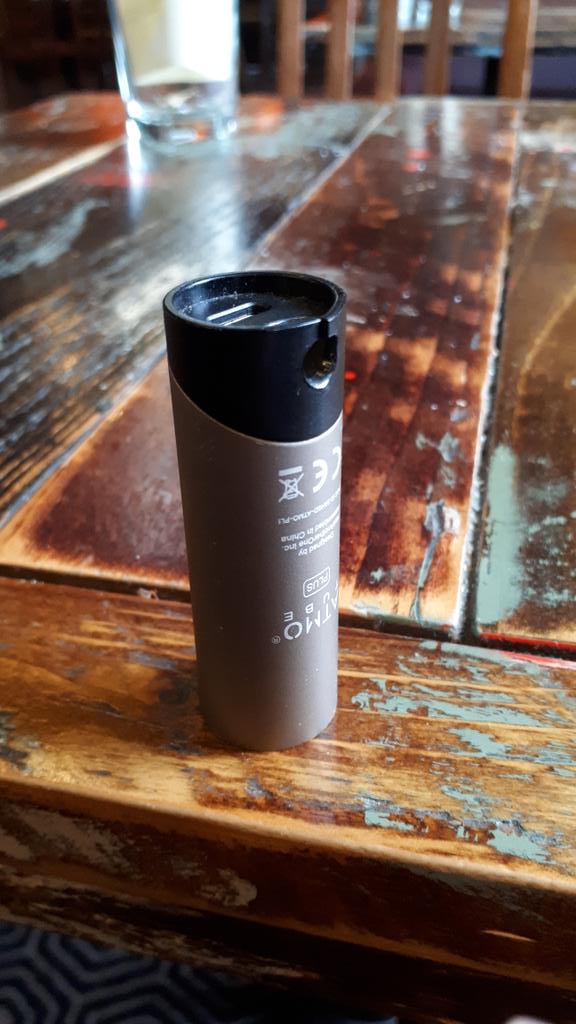 The latter device monitors a wider range of particles, and is also a real-time weather station, providing me with a personalised record of the air temperature and humidity around me, indoors and outdoors (and on trains, planes and other transport), as I walk, travel or work. I can also view a personalised historical map showing the air quality of the places I've been to, all managed by combining the device with my smartphone's GPS.
This proved useful when I recently found I'd lost my Atmotube Plus, which had been dangled from my rucksack via a (still intact) carabiner clip. I opened up my Atmotube app and was able to review the most recently captured data, and identify exactly where and when the last reading had been captured (I had been attending a meeting at a London office building). I contacted my meeting host, the device was found and I was able to collect it (the metal casing to which the carabiner had attached had cracked, possibly after the clip got badly twisted – see right – so the device then fell off). I now have my Atmotube Pro secured by a carabiner but additionally semi-protected in a mesh pocket on my rucksack so that it can't dangle and potentially get snagged.
Both the new devices have much longer battery lives, take readings every few seconds (not just hourly like the LAQN), and can be set to provide warning levels if air quality or humidity drops below particular levels.
I talked about the original Atmotube device at a COMIT event in 2016, and said that I felt such devices had the potential to alert us to malfunctioning air conditioning or heating, or to leaks of gases, etc. It could also provide facilities, HR or Health, Safety and Environmental (HSE) managers with constant updates from employee users about their working conditions, offering more location-specific data – and also data from internal spaces – than is often captured from conventional weather monitoring services. The addition of particulate matter measurement makes the Atmotube Pro additionally useful as it will detect pollutants from vehicle, plant and generator exhausts, potentially providing highly site-specific measurements as workers move around a live site.
Update (29 May 2019) – A follow up news release from the British Safety Council shares some data from #AirWeShare research undertaken by the environmental charity Hubbub in cooperation with King's College London and The Times. This involved subjects wearing portable monitors to track their air pollution exposure levels for a week:
The site engineer at a construction site had air pollution exposure levels six times higher than that of the office worker.
Of all the trial participants, the lorry driver had the highest overall exposure.
Air pollution on the tube [London Underground] is high. The deeper lines are much more polluted than those closer to the surface, with overground lines being ten times cleaner.
Andrew Grieve, a senior air quality analyst at King's College London, who conducted the air quality monitoring for the Hubbub trial, said: "In the Hubbub study, the second highest exposed person after the lorry driver was the construction worker. Outdoor workers have been overlooked in the air quality debate, but this data shows that they are one of the most exposed groups, often spending their working lives near traffic and machinery."
This seems to confirm my point that personal monitors provide much more detailed – and alarming – data about exposure to pollution and poor air quality.
Update (11 September 2019) – The upcoming NCE TechFest in London on 26 September 2019 features an Accelerator Award category, and the shortlisted candidates include an air and noise pollution monitoring solution, EMSOL. Co-founded by Freddie Talberg (who I met in 2014 when he was developing a construction logistics solution called PIE Mapping), Emsol is "a data-focused air and noise pollution monitoring solution that enables businesses to drive interventions based on live data to reduce road transport pollution."
[Other shortlisted Accelerator finalists include energy data solution DemandLogic (July 2015 post), mobile asset data capture application eviFile (see May 2017 post and May 2019 follow-up)*, small team project collaboration application Hivemap – which looks interesting – and smart drainage solution StormHarvester.]
* Disclosure: eviFile is a pwcom.co.uk Ltd client.