The Field View user conference in London has provided some useful updates on Viewpoint's mobile development plans.
13:00 GMT –
Viewpoint For Projects (formerly 4Projects) has been growing strongly in terms of users during 2015, adding 5,900 users/month, EMEA managing director Alun Baker told the last* user conference for Field View (formerly Priority1, acquired by 4Projects in December 2014).
Back in its MCS/Priority1 days, Field View started out as a ruggedised PDA application, but it made the transition to Android devices a few years ago. Today, Gareth Cottrell, Field View's mobile development manager, showed early designs of the first Windows and iPad versions of the Field View mobile application (the developers are using Xamarin to write native Android, Windows and iOS apps) and talked about the new web edition of Field View (a Beta version – "better, snappier, more adaptive across devices" – will be available to some test users shortly). The new web interface features a left-hand side menu (the current edition's menu is across the top), fast search tools and filters to help users locate their key projects and tasks, multi-task status change and reporting tools, among other improvements.
A customer story
Customer Gareth Burton, CIO – Europe at Laing O'Rourke, gave an overview of the company's adoption of Field View, which started back in the pre-Viewpoint MCS days. The company's philosophy is focused on assurance, ensuring certainty in processes that are less construction, more advanced manufacture and logistics, he said, and they are using FieldView to get real-time assurance they are working on the right information in the right place at the right time. Example Field View projects included the Francis Crick Institute, Crossrail and the Leadenhall Building (all in London), and he echoed MCS founder Richard Scott's view that mobile value was delivered because the application did far more than snagging (Burton highlighted health and safety, quality, and process automation – asset management trials are under way).
Steve Spark (Viewpoint commercial director, EMEA) talked about building information modelling, and other driving forces: demand for better project delivery, more integration, and technology (data, mobile, business intelligence) as an enabler. He highlighted UK industry KPIs showing the need for change, and noted how other countries are watching the UK's BIM drive (complete with detailed policies, mandates and timetables), and its focus on whole-life costs. Visibility  and control of processes are key, he said, but we need to overcome the poor interoperability of point solutions and silo mentalities of conventional AEC working approaches – and integration of supply chains and technology is fundamental.
API
14:15 GMT – Another customer, Gary Doel, head of business solutions at UK housebuilder Crest Nicholson, has been working with Field View on an application programming interface, API, seeking to work with its predominantly outsourced supply chains and replace (or at least better support) largely paper-based processes onsite. Snagging was the starting point, but other processes were also mobilised, so that Crest could centralise information to produce summary reports for management at all levels (integrating with data from COINS and other Crest internal business systems). Doel said some subcontractors didn't even use email, so Field View was used to provide paper-based handouts regarding snags, etc.
BIM
14:45 GMT – Ben Wallbank (Viewpoint BIM strategy manager) aimed to help raise the understanding of the Field View user audience of the UK BIM journey, where BIM deliverables are already required by £11bn-worth of UK projects (excluding HS2). He outlined the Level 2 BIM deliverables and the precedence of the model, talked about COBie ("our aim is for Field View users to do COBie with even knowing they're doing COBie") and the Common Data Environment (CDE), and the emergence of 'Big Data'. This increasingly means that a company like Viewpoint is now working to support data needs throughout the asset lifecycle beyond design and construction.
Viewpoint for Projects now incorporates an EIR Writer and a BEP Writer in its project communication toolset, helping set up team responsibilities and workflows. The company has migrated to a non-SQL database to enable better searches in its BIM management tools, and these include COBie validation and reporting, and integration between the CDE and Field View.
The 'Big Data' challenge comes when clients (plus contractors) need to look at structured data across multiple built assets, and Ben started to raise subjects such as the 'Internet of Things' and Smart Cities.
Immersive technologies
15:15 GMT – Dave Elliott of Lutterworth, Leicestershire, UK-based Holivis was a guest speaker at the Field View conference, talking about immersive technologies in construction (businesses such as Soluis – post – are also active in this field; I also see and hear a lot about VR, AR and tools like Hololens and Visual-Wise via COMIT). Predictably, Elliott mentioned Oculus Rift, Samsung Gear and 'caves', and showed how AR and VR can be used to help train people and to visualise built environments – though he initially used aerospace and automotive examples. However, he also showed examples of VR use in civil engineering projects, and in visualising and sequencing construction processes such as concrete pours.
Field View and ViewPoint for Projects integration
16:30 GMT – With the only occasional mention of "4Projects", Richard Scott demonstrated BIM integration between the mobile application and the web-based collaboration platform, using a COBie export to populate a model held in Field View. He also demonstrated how Field View forms can be used to capture and add handover information (eg: product serial numbers, installation dates, warranty dates and related files such as photographs) about model objects and then synchronised with the Common Data Environment.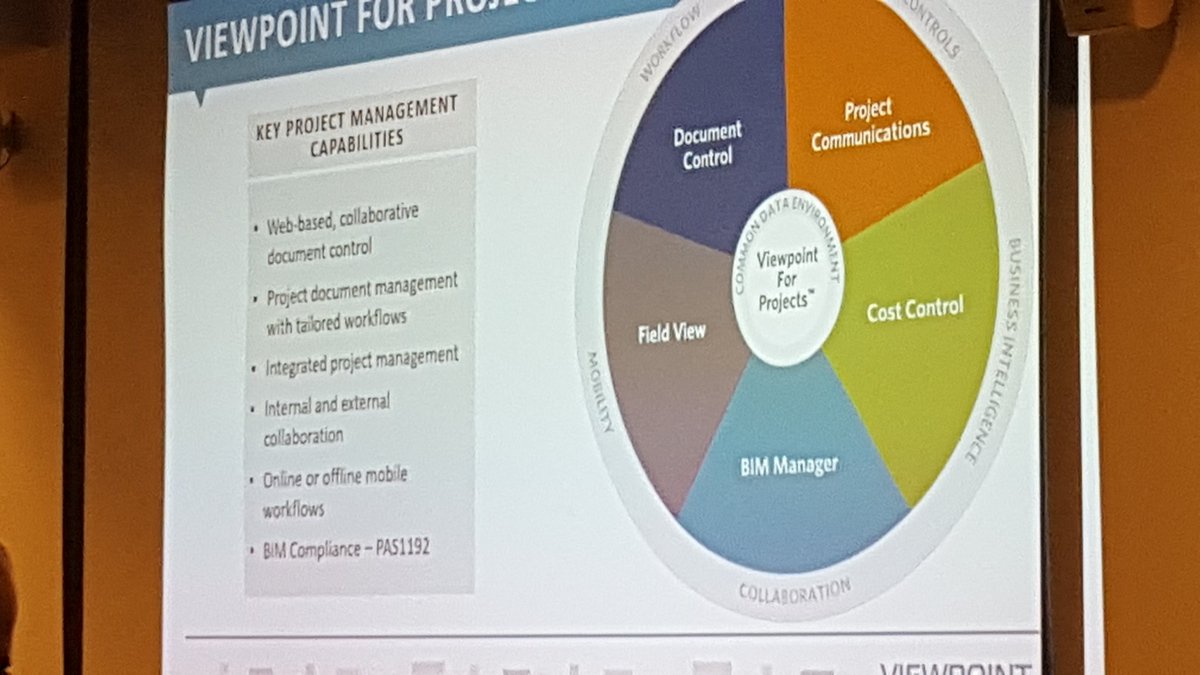 17:10 GMT – Viewpoint product manager Jeremy Larsen talked about the company's product roadmap, strategy and direction, building on Gareth Cottrill's earlier presentation and stressing usability, mobility, flexibility and integration in the context of Field View (like some AEC SaaS competitors – eg: Aconex [post] – I noticed Viewpoint has cost control as a key project management capability). In the past year, Field View (as a business) has been rebranded and integrated into the Viewpoint company; Field View (as a product) has been integrated with Viewpoint for Projects, though it remains a stand-alone product; a fully-documented API has been created; and customer feature requests have been prioritised and incorporated. Hosting facilities in Australia (AWS in Sydney) and the US (AWS in Virginia) will come online in December 2015 and March 2015 respectively.
[* From 2016, the Field View user conference will be merged with the Viewpoint for Projects user conference – with the next one set to be held on 25-26 May 2016 in London.]